Bill and Melinda Gates have announced their decision to divorce after 27 years of marriage but will continue to work together at their namesake philanthropic foundation, a development that shocked the world of philanthropy.
Bill, the billionaire founder of Microsoft, and Melinda, an author and businesswoman, announced their decision to separate on Monday in an identical statement posted on their individual Twitter accounts.
"Over the last 27 years, we have raised three incredible children and built a foundation that works all over the world to enable all people to lead healthy, productive lives," the statement read. "We continue to share a belief in that mission and will continue our work together at the foundation, but we no longer believe we can grow together as a couple in this next phase of our lives."

Source: Twitter
A joint petition for dissolution of marriage filed by the couple in King County Superior Court in Seattle stated: "The marriage is irretrievably broken."
The couple asked the court to approve their agreement on the division of assets but did not disclose details, according to Reuters news agency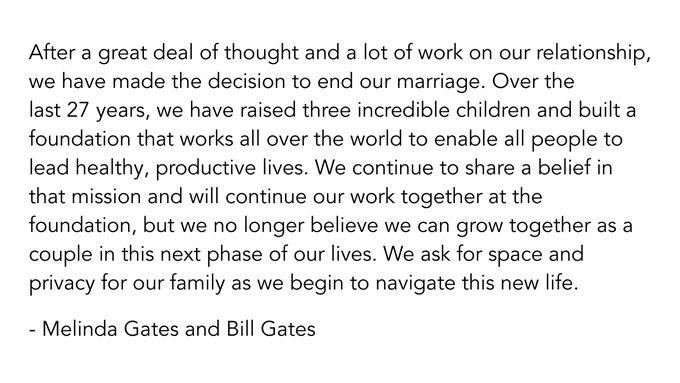 May 3, 2021
Bill Gates, 65, founded Microsoft in 1975 with Paul Allen.
His net worth stands at an estimated $130.5bn, according to Forbes, and he has donated $35.8bn worth of Microsoft stock to the couple's foundation.
He announced last year he would be stepping down from Microsoft's board to focus full-time on his work as the foundation's co-chair.
Melinda Gates, 56, serves as the foundation's co-chair and is the founder of Pivotal Ventures, an investment and incubation company that works to advance the interests of American women and families.